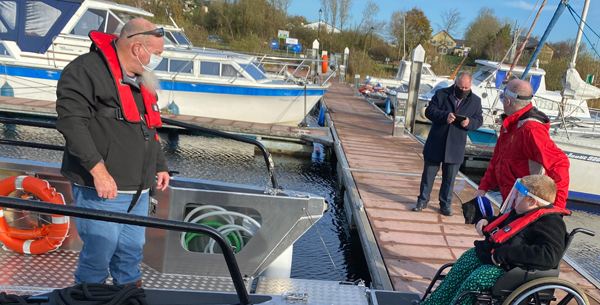 Access For All boat makes waves!
The Covid-19 pandemic may have hampered its official launch this year, but the Lough Ree 'Access For All' boat is still making waves in Ballyleague-Lanesboro and has been hailed as an exciting project for the local area.
The boat, which was custom-built in Tallinn, Estonia, is aimed at providing people with disabilities with unlimited access to the waterways of Ireland. It can carry up to four wheelchair users and is the only licenced passenger boat of its kind in Britain or Ireland.
The accessible vessel operates like a very small car ferry, with the bow lowering to allow wheelchair users to roll on and roll off. There is no lifting or hoisting and the design was concluded after consultation with members of the Independent Living Movement and Irish Wheelchair Association.
FiannaFáil Senator Eugene Murphy said he expects the boat to be a "massive success" in Ballyleague-Lanesboro.
"I was really impressed with the structure of the Access For All boat and I think it's a fantastic idea. Its arrival is very positive for the area and I think it will be a massive success when things get back to normal.
"It really is an exciting project and I think it's going to bring a lot of people into the area," he said.
Gallowstown woman Dorothy Coyle and her husband Paul were invited along to the Lough Ree Angling Hub recently to take a 'test cruise' on the new purpose-built boat.
"We thought it was excellent and we had a brilliant time. We were lucky with the weather and the calm conditions (on Lough Ree). I love the water, my husband Paul doesn't love it so much!
"The boat itself is a fabulous design and it's a great way to get out on the water. Normally it can fit more passengers but with Covid-19 restrictions the capacity has been reduced to four wheelchairs, two helpers and two crew members.
"Covid-19 has thrown a spanner in the works this year but the crew involved with the Lough Ree Access For All boat have great plans for next year," she said.
It is hoped that the Access For All project will create up to fifteen jobs locally and that it will run on a full-time basis in 2021, offering a full range of tours on the water as well as bike hire and guided walking and fishing tours.
By Dan Dooner (Roscommon People)