Click on the "know More" button below to see this video.
Friday the 23rd of September 22 was a great day. You see while we normally sail from our own private jetty here in Ballyleague, last Friday however we ran trips from Coosan Point near Glasson at Athlone. The event was organised by the Athlone branch of the Inland Waterways Association of Ireland in conjunction with St Hilda's special School in Athlone and ourselfes. The sun shone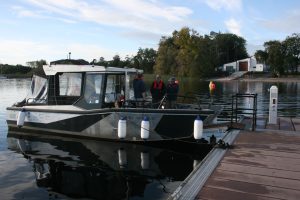 for the most part and more than fifty five people enjoyed trips out on the lake. We hope to do it all again in a few weeks and we're all really looking forward to it.
The eagle eyed reporters in the Westmeath Independent were not found wanting when it came to reporting local events in this weeks issue. Indeed those sharp eyed journalists ran a super article on our recent visit to Coosan Point where along with the Athlone branch of the IWAI and the staff of St Hilda's special school in Athlone over fifty five students enjoyed boat trips around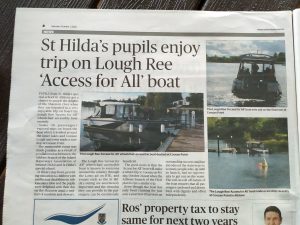 the inner lakes.
Those in the know will tell you that it's the best time of the day. Dawn mist on the river only lasts a short while, but while it does last it's just magical.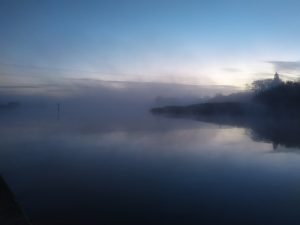 The leaves are turning golden, and the days are getting shorter, but there are still lots of days when you can get great sunshine and go out on our (fully heated!) boat and enjoy the waterways.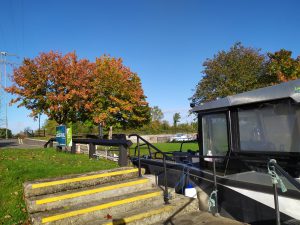 Summer signets are a reminder of those lovely long summer days on the river.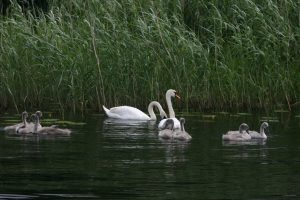 The sun rising at our own mooring here at Ballyleague/Lanesborough. Looks like it will be another lovely day today.
Shortly before the Christmas break, we got a visit from the Big Man himself…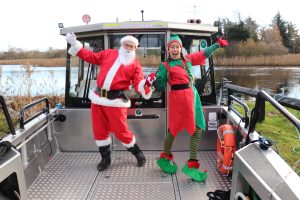 Santa used the time to check that all the local children's names were on the good list.
You might imagine that in the winter things are fairly quiet here in Lough Ree Access for All. But even though we'd have fewer sailings, we still keep ourselves occupied. Some of us have been busy designing our new 2023 brochure, and they are just back from the printers. Full of up-to-date information and well worth having if you (or someone you know) would like to explore our wonderful inland waterways. If you'd like some just contact us through our website.