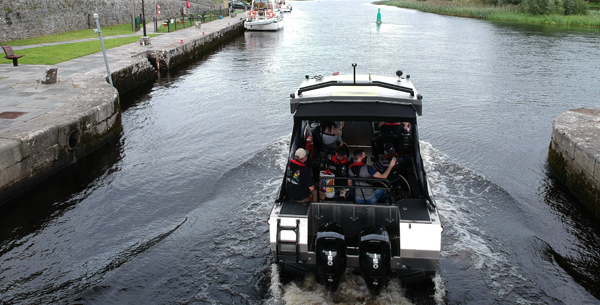 Our Fishing paradise
Lanesborough – Ballyleague is a renowned Angling Centre where you will find all supporting services including accommodation, Advice is always readily available locally. This is an ideal base for the Pike angler interested in fishing Lough Ree where you can catch Pike up to 20lbs +. Lanesboro offers excellent facilities for the Coarse Angler. There are six venues from which to choose – The old Hot Water Stretch, The New Cut and Kilnacarrowand two lakes near Longford town, Clooncose and Lough Sallagh. The northern shores of Lough Ree are also important and described in the guide.
The old Lanesboro hot water stretch lies just north of Lough Ree on the River Shannon. With a regular release of hot water from the power station, this venue once provided the ideal conditions for coarse fish. Tench, Hybrids, Roach and large Bream abound the waters here. The best time for large Bream is from late March to the end of May but can also be productive at other times, weather and river levels permitting. Fishing with a float or ledger is likely to get the best results. Specimen Bream and Tench have been verified over the years by the Irish Specimen Fish Committee. Tench fishing is best in May and June but can also be good at other times to October. Anglers have reported catching and losing large carp, sometimes breaking in large fish.
Upstream is the hot water flusher and fishing is easy along a concrete platform. Downstream of the bridge there is a reed bed dividing the river, also along a concrete ribbon. This is a good spot for feeder fishing and best results are likely fishing near the reed beds. River flows may vary depending on the volume of hot water being released from the Power Station. This is a good area particularly for large Tench from mid May to October conditions permitting. Fish to 7lbs have been recorded here.
During peak season from April to May and again September to October spaces are generally well competed for and anglers are advised to get their spot as early as possible in the day during these times. The stretch is well baited much of the time by the many visiting anglers who tend to fish here for up to a week at a time.
FACILITIES AND ACCESS: Access to prime angling locations are above and below the bridge. Upstream of the bridge to the Hot Water Stretch outfall can be accessed by walking up the bank from the bridge on the village side where about 20 angling spaces are available off concrete stands. Below the bridge on the village side are approximately 20 spaces located in front of the car park and further fishing spaces are available downstream at the harbour. There are also toilet facilities at the car park. Three custom built wheelchair stands are available for anglers with disability, accessible from the car park.