Registered Charity 
This Lough Ree boat trips service website is operated by Lough Ree Access For All CLG – a registered charity – approved by the Charities Regulator of Ireland 
Registered Charity Number (RCN) is 20206009
Lough Ree Access For All CLG is registered with the CRO and committed to the reinvestment of all profits for the provision of services to people with disability.
If you have ever considered leaving a gift in your will we would be grateful if you could make a donation to our Access For All Boat.
Get your gift cards HERE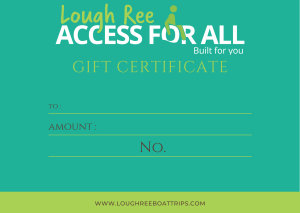 Lough Ree Boat Trips
Lough Ree is one of the premier angling venues in Ireland – renowned for its stocks of pike – many exceeding 9Kg (20lbs) in weight.
The provision of the Lough Ree Access For All boat will provide an adapted integrated water based experience for people with disabilities for the very first time – allowing access for up to 3 wheelchair users at the same time.
Access to the boat is via the bow of the vessel which lowers in a style akin to a small car ferry – thereby allowing the passengers to "roll-on" and "roll-off" in their own manner and without assistance needed from anybody else. The boat is the ONLY licenced vessel of its kind in Britain or Ireland for passenger travel of this nature and will provide daily sailings for people with disability from throughout Roscommon, Longford and throughout the country and abroad – offering activities such as angling, sightseeing and other excursions in all weathers.
Lough Ree Access For All CLG is working with its partners Waterways Ireland and Inland Fisheries Ireland, Failte Ireland, Roscommon & Longford County Council & The Just Transition Fund of Ireland on this project to improve access for people with disability to the rivers and lakes.
The boat crew and passengers will be equipped with state of the art weather protection and safety equipment . Our crews are trained to the highest professionally accredited P2 standards by Bord Iascaigh Mhara. The boat is fully licenced by the Marine Survey office of the Department of Transport as a P2 Passenger vessel.